Sportswear for Wet Fun
Get ready to wear your sports kit and casual clothes like a boss in the thrilling world of watersports!
No need to break the bank on fancy gear because we've got you covered with amazing options that will make you feel confident and ready to conquer the water.
Sportswear is your ultimate go-to when it comes to getting wet and wild. Designed to withstand the water's embrace, these clothes are built for epic adventures. Whether you're into boating, surfing, or any other rad watersport, sportswear has got your back.
It's all about finding the perfect outfit for each activity. Some clothes are made for maximum performance in the waves, while others are perfect for those sleek swimming sessions. The choice is yours, and the options are endless.
Spontaneous Swimmers
But hey, let's not forget our spontaneous swimmers out there. You know those moments when the water calls and you just can't resist taking a spontaneous dive? No worries! Fun doesn't wait, and neither should you. With carefully chosen casual clothes, you can make a splash anytime, anywhere. Don't stress about not having a swimsuit or a nearby changing room. Your clothes will get wet, but trust us, the memories you'll make will be totally worth it.
So gear up, water-loving swimmers! Sportswear and casual clothes are your trusty companions in the water. They're tough, they're ready to get wet, and they're here to make sure you have the time of your life. It's all about embracing the thrill, feeling unstoppable, and creating unforgettable moments. Let's make waves together!


Sports clothes are great for beach and waterparks. Depending on your chosen sports or activities you can combine the ideal outfit to wear in the water.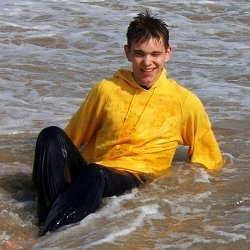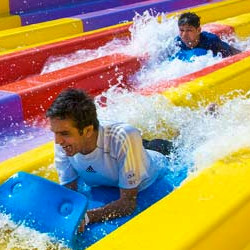 No Swimwear
Swimwear is not needed. Most sportswear doubles up as swimwear and you save weight and space when travelling. You can swim in unlined sports clothes because they dry quickly, don't fluff up the pool filter systems, and make good sun protection that doesn't wash off like sun lotion. Help protect the environment.
Cost
If you've ever bought branded sportswear you already know it usually comes with a hefty price, but this doesn't have to be so. Don't go for expensive technical fabrics. Simple nylon and polyester clothes are fine, as long as they are breathable. On Aliexpress you can find lots of sportswear that is meant for swimming as well.

Test Reviews
On this website you'll find tests and reviews by our keen swimmers who will check out any kit we get our hands on and write a review with web links to suppliers.
First Look
When we see interesting new products we write a brief report for our readers, either as part of an article or on a page of its own. This might happen at a shop, a trade show, or some other event.

Full Reviews
Whenever we get our hands on new kit, we test it under realistic conditions for a detailed full review. These get updated over time after we've used the samples for a while.
First we try it in the pool to see how it fits and feels, and check how comfortable it really is. Next we see how it performs during watersports like canoeing, sailing, or surfing, and how good the design is for readers who really enjoy watersports, rather than wear it as a fashion statement.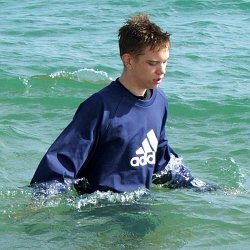 Beach Test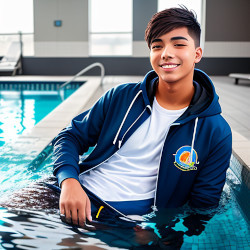 Pool Test
Manufacturers: Promote !
If you're a manufacturer or supplier of sports clothes or accessories, send us your products for review. You get publicity on a busy website for the cost of a product sample. Reviews carry a clickable link to the supplier's website so our readers can order the products we've reviewed. If a supplier provides more than one item, they get a dedicated section with a company profile.
Affiliate Partnerships
When we come across really good products, we like to share them with our readers who come here to find the best and most original swimwear. If you run an affiliate program, talk to us.