Swimwear and Watersports Clothing
Get ready to dive into the exciting world of swimwear and watersports fashion!
It's time to leave behind the traditional bikinis, shorts, or oilskins, and explore the wide variety of stylish and functional options available today.
From rash guards and wetsuits to board shorts and swim tights, there are endless possibilities for both fashion and function when it comes to water-friendly attire. And while it may seem overwhelming with all the different names and terms out there, fear not! We're here to help clarify things and make your shopping experience a breeze.
So whether you're looking to catch some waves, immerse yourself in wet adventure sports, or simply lounge by the pool, there's a perfect swimsuit or watersports garment for you. Don't settle for boring and outdated styles. Let us guide you towards the latest and greatest in swimwear and watersports fashion. Make a splash and look amazing doing it!

Sun Protection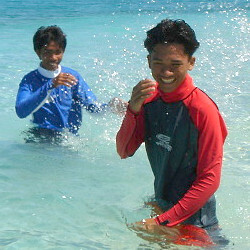 Many people don't realise that sunburn risk on the beach is much higher than inland, due to the light reflection from sand and sea. We look at solutions.
Waterwear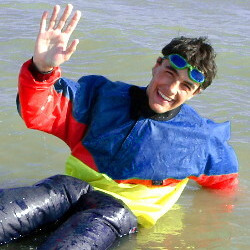 When it is too warm for a wetsuit, but not right for swimwear, water clothes offer you convenience, warmth and sun protection.
Modest Swimwear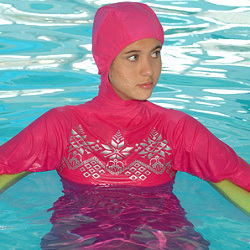 Modest swimwear is gaining broader appeal beyond the religious community, with sunburn protection being a major consideration.
Swimwear Colour Warning
While blue is a popular color for swimwear, it may be noteworthy that light blue swimwear makes you almost invisible to the lifeguards and other swimmers. In swimming pools pale blue clothing is effectively camouflage. You just fade into the background.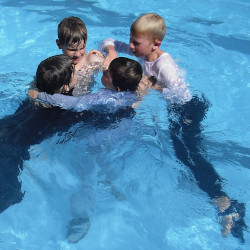 The kid in the pale blue swimsuit is almost invisible. This could be a safety risk.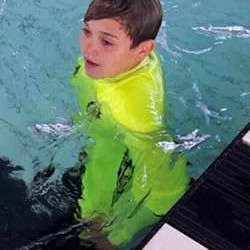 Swimwear in bright colours keeps you visible to other swimmers and the lifeguards.
Alwyn Inga joins our Editorial Team
Alwyn has a natural talent for staying up to date with the latest developments in swimwear and waterspots fashion. He keeps a close eye on the industry and has a keen sense of style that allows him to quickly identify emerging trends. He is well-versed in the current swimwear fashion scene and understands the nuances of each style.
His ability to stay on top of new trends allows him to offer valuable insights and recommendations to our readers. Whether you are looking for classic swimwear styles or more daring designs, Alwyn can guide you in the right direction and help you choose pieces that are both fashionable and functional.
Furthermore, Alwyn's ability to catch up with the latest developments in the watersport clothing technology, not only stems from his experience and knowledge in the industry, but also from his passion for watersport fashion.
He is constantly looking for inspiration and new ideas to incorporate into his work, which allows him to stay ahead of the curve and offer unique and innovative solutions to our readers.

Test Reviews
On this website you'll find tests and reviews of a wide variety of swimwear, waterwear, and travel reports. Our keen swimmers will check out any kit we get our hands on and write a review with links to suppliers.
First Look
When we see an interesting new product we write a brief report for our readers, either as part of an article or on a page of its own. This might happen at a shop, a trade show, or some other event.
Full Reviews
Whenever we get our hands on new swimwear we test it under realistic conditions for a detailed full review. These get updated over time after we've used the samples for a while.
First we try the products in the pool to see how they fit and feel to check how comfortable a swimsuit really is. Next we see how it performs during watersports like canoeing, sailing, or surfing, and how good the design is for readers who really enjoy watersports, rather than wear it as a fashion statement.
Manufacturers: Promote !
If you're a manufacturer or supplier of swimming clothes or watersport accessories, send us products for review. You get publicity on a busy website for the cost of a product sample. Reviews carry a clickable link to the supplier's website so our readers can order the products we've reviewed. If a supplier provides more than one item, they get a dedicated section with a company profile.
Affiliate Partnerships
When we come across really good products, we like to share them with our readers who come here to find the best and most original swimwear. If you run an affiliate program, talk to us.