Onesie Swimsuits
What is a Onesie? Simply hoodie with legs. Like an overall for fun.
A onesie is a one-piece loose casual pyjama or swimsuit with a touch of style to meet your need. It comes in various types and formats depending on the occasion. Catch the Onesie wave. Onesies are a 'must-have' in your wardrobe.
An adult onesie or adult romper suit is just right for cozy time at home with your friends, or for relaxing in the pool. It keeps you warm and cosy on land or in the water. You just feel utterly relaxed as soon as you put one on.
The onesies you can get now for men and women, teens and kids are certainly nothing like the ones you see on babies. Gone are the days when they were baby's choice, now they are the first choice among adults.
The adult onesie has evolved with a big chunky zip on the front, a soft inner lining and a cool tracksuit look. It is ideal for tough resistance swim training as it soaks up a lot of water which you have to pull along as you swim your lengths.
This is the ultimate chill-out suit. Get home, have a bath and jump into your onesie. Or the other way around, jump into your onesie and then into your bath. There is no better feeling!

Swim Onesies
A fairly new use of onesies is for swim training. The drag resistance and weight they provide when fully waterlogged allows for serious strength training. Unlike weight lifting, the load is evenly spread out over your body, making it much safer. It is also a lot more comfortable and feels better in the water than many alternatives.
A onesie always feels good, even when swimming. From the cotton or polyester fleece to the front zipper, hood and front pockets, everything is made for fun on land and in the water.
Stay warm and comfortable with a top quality onesie. Fleece onesies dry much faster, often while you wear them. This makes them useful as themal mid-layer for water sports and open water swimming.
While they won't replace your favourite swimsuit or pyjama for sleeping in, a onesie can be worn throughout the night when the temperature begins to dip. In fact, you may want two pairs of onesies: a cotton pair for warmer weather and a fleece pair for when the chill air takes over, or for swimming.
They come in a variety of styles for after school wear, weekends or just everyday casuals for the beach or pool. Just jump in and enjoy!
Whether for yourself or for the whole family, wearing onesies is definitely a comfortable way to spend an evening, or even a full day, doing the stuff you love to do. Onesies are so comfortable, they are now cool in the pool. The new styles on the market mean that you can look great without compromising on comfort.

Ninja Suit
The iconic one-piece that started it all. The Ninja Suit is the original hooded base layer suit, and still the best long underwear on the planet.
As a bonus, the Ninja Suit is so comfortable and awesome, you'll find yourself wanting to wear it in completely inappropriate scenarios: grocery shopping, to the movies, in the pool, or on a date.
Our advice? Go for it. After all, you're a Ninja. And Ninjas pretty much do whatever they want!
No Waistband
A onesie is super versatile, comfortable and cozy without a waistband that will keep you warm but looking cool all year around. This is particularly useful for swimming as it stays put when you move around.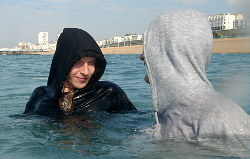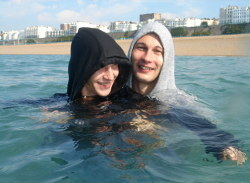 Pool Party Onesies
The onesie pool party trend is for everyone, from the paparazzi to the male celebs, it is any guy's favorite. Onesie parties have now become ever so popular in many places with some people even wearing their onesies to pool parties. They are seen wearing onesies for fun at festivals and swim events. Smaller sizes are also perfect for school swim teams and fun races.
Here are some ideas for your pool party:
Comfort, comfort, comfort - Without the discomfort of a waistband, onesies are the ultimate fun suit for pool parties, especially when hugging and snogging your friends in the water.
Nordic winter fun onesie - The classic chill out suit for the pool with a hood and pockets. It looks so cosy that it makes you a hug magnet.
The baggy fit - It allows for you to get comfortable in any position without having to worry about your adult onesie cutting off circulation to any important regions.
Spikes and a tail - Funky looking onesies with spikes and tail. Animal onesies and hero Onesies are the best pool party wear.
Hood with comfy lining - Keep your head warm and cosy with a comfy lining. Some hoods have a drawstring so you can pull it tight for when you do somersaults underwater.
Front double YKK zip – You can zip up or down, or both at the same time. Useful for some pool games.
Hand warming pockets – pockets with a matching lining to keep your hands warm and your valuables safe.
Thumb holes with a larger cuff – Comfy hugging wrist cuff and thumb holes to keep you warm when you need it most. Keeps the sleeves from riding up when swimming.
Ankle hugging cuffs – keeps your ankles warm and prevents the legs from riding up.

Shopping Tips
Shirts? Pants? Everyone has them, everyone wears them, many swim in them. But are you just 'everyone' or 'the one'?
Try out different onesies to see which goes with your look giving you a sassy, yet innocent look. Choose the most in-trend onesie to show your unique style. Get the new look with our most ingeniously created onesies, firmly landing the sleek mark of comfort fused with style.
Creativity and innovation is the key to providing you the new look all the time, with the fashion changing by the minute, you will never feel out of it.
Some onesies have a hood just in case you get caught in the rain. The footed and hooded style onesies are the ideal wardrobe choice when you want to stay at home or relax in the pool. The more fashionable open feet suits are the workout outfit for resistance swim training or for running an errand.
Comfort is the key to all the onesies that are sweeping the world. From plain ones to the funkiest characters on TV and animals, they have covered huge grounds in a short span unlike other trends that come and go.
Many adult onesies include a free pair of matching slipper socks for those of you that prefer the open leg variety but don't want to walk barefoot on poolside.
Look for onesies that are not only colorful, but made of comfortable fabric that will feel soft and cozy in the water. Many onesies have a cotton mix of 50% cotton and 50% Polyester, nice soft tracksuit style fabric. The perfect onesie for chilling out at home or wearing in the pool. That's what onesies are all about.

Colours
Onesies are fun clothes you mainly wear at home or in the pool, not often in public. That means you can pick them in colors that you may not wear on any other garment.
Bright yellow, for example, is a color you might not pick for a pair of pants or a shirt, but for pyjamas or any sort of swimwear it's fun to wear.
Onesies come in a many colours and patterns, including flags, super heros or animals. Be creative in your choice to make a colourful splash in the pool.
A plain black hooded onesie is excellent for printing on. You can add your swim team name or just your name if you wish.
Another advantage of dark colours like black is that your onesie glistens beautifully in the sun when you come out of the water.
On the other hand, thin white fabrics can go somewhat transparent when wet. This opens the opportunity for many creative ideas, wearing darker colour underneath your onesie, or nothing at all.

Swimming Lessons
by Andreas from Berlin, Germany
At our local pool I give swimming lessons for kids and adults. For that I have to be really fit and need a lot of stamina. I found the best to way to get fit is to swim in sports clothes.
Survival swimming and aquatic boot camps are now fairly popular, because they are much more fun than swiming up and down. We use layers of clothes to increase the difficulty of the exercises. A problem we have is that clothes often don't stay put when we jump around.
One of our swimmers arrived poolside in a onesie and found that it stays put no matter what. He jumped into the pool, came out, did somersaults off the diving board, and his onesie always stayed in place.
I talked to the pool management and they ordered for the swim shop several onesies, made of tracksuit material that doesn't fill the pool filters with fluff. These became very popular with the swimmers in my classes. Especially the kids love these baggy romper suits for fun in the pool. Most people buy two suits, one to swim in and one for the way home.